Fixed Windows
Our aluminium-coated Clear windows offer low maintenance costs. Stylistically, the windows are especially suitable for urban environments, but they are also an excellent choice for areas with challenging weather conditions. The windows in the Clear range are made with close-grained pine.
Their deep casing allows for a wide range of glazing options. The colour options for the aluminium coating include our standard colours and a selection of RAL colours.
Use of fixed windows
The characteristics of our fixed windows make them especially suitable for buildings that have a mechanical ventilation system and for places where energy-efficiency is particularly important.
Profin windows are made with carefully selected close-grained wood, and our designs and production methods guarantee a long service life for all our products. The insulated glazed units used in our fixed windows are sealed tightly to the casing. Our extensive experience as window-manufacturers is evident in the structure of the windows and the technical solutions used: every detail has been designed to last.
For installations in which openable windows are needed, we recommend our DK windows. They are safe to use and easy to maintain, and they are manufactured to the same high standard as all our other products.
TECHNICAL DETAILS
Glazing
Insulated triple-glazed unit
Seal
Double-sealed
Casing depth
195,5 mm
OPTIONAL FEATURES
Material
Pine, larch, or oak
Colour options for aluminium coating

Dark grey, RAL 7024
White, RAL 9010
Black, RAL 9011

Performance (DoP)
SD Clear Fix suoritustasoilmoitus
Delivery
The arrangements for the delivery of products measuring more than 2.4 m in height (2.6 m when packaged) should be agreed upon when the order is placed.
PRODUCT INFORMATION AND SALES
Get in touch! Product advice, brochures, and quotations are available by telephone. Call us at
+358 8 815 3700
Please request a quote by sending e-mail to
[email protected]
[/fusion_tab]
Color & Materials
STANDARD COLOURS
Painted wood
Standard colour options for aluminium exterior trim products and boards
(Clear range only)
THE WOOD
Our fixed windows can be manufactured with any of three types of wood.
Handles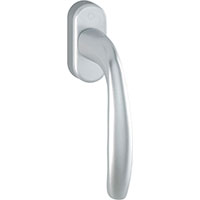 Window handle
New York
Standard handles. We use Hoppe handles in our windows and doors. Our standard handles are from the Hoppe New York range and are available for all of our windows and doors. Other handles are available on request.
Glazing
Float glass
The name of float glass refers to its manufacturing process: the molten glass is floated onto a bed of molten tin and onto a cooling kiln. The manufacturing process enables excellent optical quality in the result. The most common float glass thicknesses are 4, 6, 8, and 10 mm.
Tempered glass
Tempered glass is physically and thermally strong, and it has excellent flexural strength. It is around 4–5 times stronger and more heat-resistant than non-treated glass. When tempered glass breaks, it shatters into small, dull pieces instead of sharp shards. Most types of glass can be tempered, except soft-coated glass and carved decorative glass.
Laminated glass
Laminated glass consists of two or more sheets of glass with inter-layer bonding, typically of polyvinyl butyral. When laminated glass breaks, the inter-layer structures hold the pieces of glass together, preventing injuries caused by falling or flying glass. Various types of glass, including energy-saving, sun-protection, and soundproof glass, are available laminated.
Safety glass
Safety glass is designed to prevent injuries from falling or flying glass. There are two types of safety glass, tempered and laminated glass, with individual subtypes of glass falling into personal safety classes F1–F3. Some types of safety glass can also have other features, such as energy-saving properties, protection against the sun, or soundproofing.
Selective glazing
A product with selective glazing is coated with a thin layer of metal that allows short wavelengths to pass through the window while reflecting long wavelengths. Selective glazing can reduce heat loss by up to 70%. The soft coating scratches easily, so the coated surface always faces the inside of the glass unit. Double-glazed units typically have one coating on the inner pane, while triple-glazed units have both the inner and the outer pane coated.
Sun-protection glass reduces the amount of solar radiation that passes through the glass unit. The thermal radiation and visible light from the sun is partly reflected and partly absorbed, with only some of the radiation passing through the glass. Sun-protection glass can also be tempered, or it might have features such as soundproofing. The pane with the sun-protection coating is always the outermost pane of a glass unit. The special coating on energy-saving sun-protection glass scratches easily, so it always faces the inside of the unit.
Safety glass can be used to protect people or property against vandalism, break-ins, or firearms. Resistance categories:
Anti-vandalism P1A–P4A
Protection against burglary P5A–P8B
Bullet protection BR1–BR7
The safety feature can be combined with other features, such as energy-saving properties (selectivity), protection from the sun, or soundproofing.
The soundproofing characteristics of a glass unit can be improved through the use of panes with different thicknesses, by means of laminated glass, or with an increase in the amount of space between the panes. The best results are achieved with laminated glass that has a special soundproofing coating. Soundproofing glass can also have other features, such as energy-saving or sun-protection properties, or it can be tempered, for example.
Silk-screen and back-painted glass. Tempered silk-screen or back-painted glass is an excellent choice for portions of façades that do not have windows. The colours for back-painted glass are chosen from the RAL colour chart. Decorative patterns are created to order, by means of the screen-printing technique.
Insulated glass units Most of our insulated units feature Super Spacer warm edge spacers. The Super Spacer component is made of silicone foam without any metal parts, and it is a significant improvement over traditional metal spacers. It conducts 950 times less heat than aluminium spacers do and has been shown to reduce the pressure on the panes, decrease the passing of heat through the unit, prevent condensation, increase the surface temperature of the panes, and improve soundproofing. The Super Spacer product has undergone extensive testing, and it is widely used all over the world
Insulated glass units with Super Spacer warm edge spacers have the market's best U values. Super Spacer spacers enable window- and door-manufacturers to meet tightening energy-efficiency requirements.
In addition, spacers made of aluminium or stainless steel are still available. Metal spacers can be used when the spacers have to be a certain colour or the glass unit must meet the requirements of a specific fire-resistance class.
Accessories
VENETIAN BLINDS
Venetian blinds can be fitted to the windows at the factory.
The standard colour is white (0150).
Silver (7010) is available as a special colour.
INSECT SCREEN
Our DK Windows can be equipped with easily attachable insect screen, which is long lasting, stylish and almost unnoticeable.
Colour of the net is always grey due to transparency. Colour options for the frame are:
RAL 9010 white
RR 32 brown
RAL 1001 beige
RAL 7024 dark grey
RAL 7040 light grey
Special colours also available.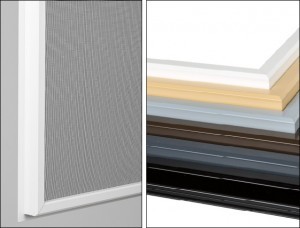 Services
WARRANTY
Five-year warranty against structural, technical, and material defects
A five-year warranty applies to products coated, painted, or varnished at our production facility
One-year warranty against structural, technical, and material defects (from the date of delivery)
The warranty applies to all untreated and stained products that are painted or varnished properly immediately after installation.
Five-year warranty against leaks and condensation
The manufacturer of the insulated glass units offers a five-year warranty on all of these units. Leaking or condensation-prone units will be replaced at any point during the term of warranty.
[/fusion_tabs]